The day I discovered Day of the Dead
The day I discovered Day of the Dead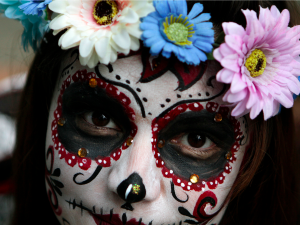 With the current focus on Halloween, it's easy to forget that this week marks another annual tradition associated with the deceased.
Day of the Dead (Dia de los Muertos) may sound like a horror film but it's quite the opposite. This fascinating annual tradition originated in Mexico and is all about remembering and honoring passed loved ones by celebrating their life with personalized altars and gravestones, and huge street parades.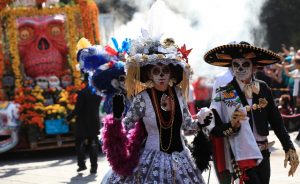 Despite its association with dressing up – parade participants wear traditional embroidered or lace Mexican dresses, skeleton print dresses, crowns of flowers in their hair, and exhibit some serious skull face-painting inspired by Mexican icon La Catrina – Day of the Dead has nothing to do with Halloween. And fortunately nothing to do with your kids hoarding absurd amounts of candy for doing not a lot.
The holiday combines the indigenous Aztec ritual with Catholicism, and the celebrations begin on October 31st and culminate on November 2nd, also All Souls Day. November 1st is named Día de los Inocentes because it honors deceased children, while November 2nd remembers passed adults and is known as Día de los Difuntos.
Candlelit altars for the dead are created in homes or at community events and include photos of the deceased alongside some of their favorite things. Other staples include marigolds (whose vibrant hue and scent are believed to entice spirits to their altar), Pan de muerto ('Bread of the dead'), a sweet bread decorated with bone-shaped pieces of dough, and vividly decorated sugar skulls, which have become a main symbol of the holiday.
I first heard of Day of the Dead watching the preview of the new Disney film Coco. 'Looks great,' I told my young daughters – until the lead child character entered what appeared to be the underworld and was surrounded by a myriad of skulls. I quickly turned the TV off wondering why on earth Disney would make an animated film on the subject of death.
Some quick research revealed that Day of the Dead is actually a family-friendly holiday, and interestingly is used as a way to teach children about the circle of life, hence Disney's foray into the subject.
"Indigenous people believed life and death were one big cycle so people never really went away, they just went to inhabit a different place," Gabriela Martinez, a curator at the Museum of Latin American Art told the LA Times.
That definitely works for me. I'm English and we rarely speak about the departed, let alone celebrate them after they're gone. I don't know if my 5-year-old is quite ready for Coco but I certainly am!