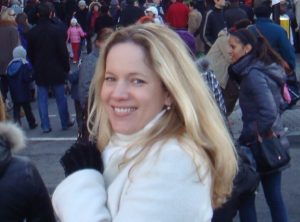 I'm Madeleine, mum to two amazing daughters, and daughter of an amazing mum. Mum passed away 24 years ago and this blog is in her memory, but it also feels like a project we are doing together.
I was a journalist for 16 years until I had my eldest daughter in 2011 and settled in America with my husband. I am however, English, hence the word Mum peppered all over this blog – it's how we Brits spell it! I've since run small businesses from home and dreamed of bringing Just Five Minutes to fruition.
The concept for Just Five Minutes – to imagine and share what you would do if you were given your lost loved one back for five minutes, and in turn connect with others to help their own grieving process – was born out of the isolating feelings of grief I experienced over the years from losing Mum.
I was 22 years old when Mum passed away and my life was utterly devastated. She'd had cancer for over 3 years and I was her full-time carer for the last 10 months, yet still the end was a massive and debilitating shock. I also didn't know a single other woman who had lost her mum at a similar age.
During Mum's illness, I forced myself to believe she was going to get better, partly because of her incredible strength and bravery, but mostly to keep me strong enough to cope with the deterioration I witnessed every day as she battled cancer. I was in complete denial of what would eventuate but it enabled me to not fall apart so that I could make Mum feel as loved and cared for as much as she had made me feel all my life.
Left alone after, I somehow navigated my life back to one I wanted to live over many years. I chased a 'big life' to compensate for the desperate grief trapped inside me, and had many adventures around the world. And all the while I made sure there was barely any down time so the feelings of gut-wrenching sadness and loneliness couldn't invade my mind. One searing memory I have after losing Mum was that I didn't belong to anyone and nobody belonged to me. I was close to my Dad but my parents divorced when I was 5 and I was raised predominately by Mum.
Today though my life is very different! The sadness has subsided, mostly thanks to my daughters who feel like my little spiritual healers and make me indescribably happy. And my adventures led me to meet my wonderful and supportive husband.
But without Mum here makes it feel there is a 'before and after' in my life and not a single person I know or love in my new life in America met Mum. I miss connecting to the before, to the me before, and to Mum. I talk to her everyday, even just a few words, and I blow a kiss to her photo every night before going to bed. But I would like to bridge the gap between before and after, for myself and for others who live with grief, with Just Five Minutes.
I look forward to connecting with anyone reading this the idea may help. Please contact me here anytime.
Thanks!
Madeleine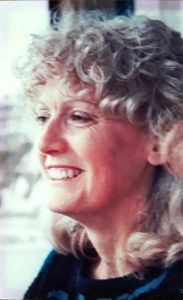 My mum ♥